A speech is not just a speech. A training is not just a training.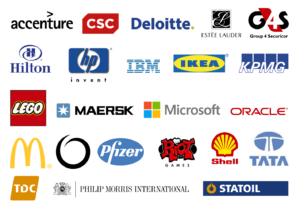 For 17 years I've been doing corporate speeches and workshops in over 50 countries for clients like IKEA, IBM, LEGO, Pfizer and many others.
One of the secrets of my success is that my company built a structured proven workflow for our trainings that helped me stay focused and created more value for our clients.
It also meant that I didn't have to do all of the admin stuff that I honestly hate and completely suck at – I could leave it to people who are good at it and enjoy it.
And now I'd love to help you do the same. If you're like me – a speaker or trainer who loves speaking but hates all that admin stuff that comes with it and don't have a huge organization to do it for you – then this is for you. Read on.
What it is
Here's a question for you: Do you remember to send every one of your clients an evaluation form after your trainings AND follow up to make sure they actually fill it out? If not, you're missing out on structured, useful data on how happy your clients are with your work. Data that is incredibly useful to improve your services and promote them to new clients.
And this is just one element of a best practice presentation workflow that I would never reliably get done myself, because it's simply not a core strength of mine. There are many, many others that we've discovered over 17 years in the business.
We will help you design a comprehensive workflow around your speeches and trainings that creates more value for you and your clients.
And then we will actually run that workflow for you for your events, so you don't have to do all the administration – you can focus on designing and delivering amazing content.
Sample workflow
The workflow starts as soon as you sell an event to a client and continues until well after. We will design your specific workflow together with you, so you get to learn from our best practices and adapt it to your clients' needs.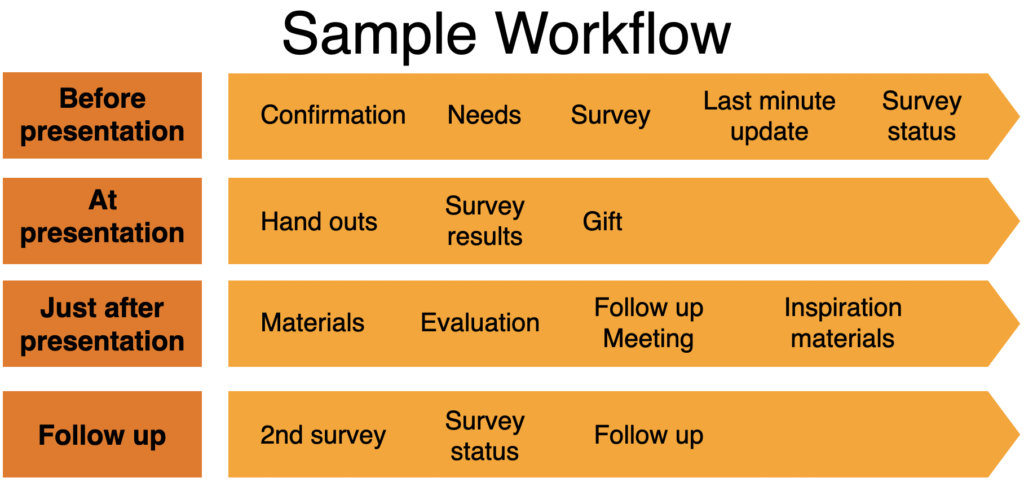 What it's not
This is not for everyone. If you already have an organization or assistants or a speaker bureau that does the administration for you, you won't need us.
We don't do actual sales for you because we're not a speaker bureau.
Also we don't handle billing and financials because that stuff is just wildly different from country to country.
Why it rocks
When we implemented this workflow I found it SO helpful. It just gave me peace of mind to know that all my clients received all information they needed and that I had a total overview of my events.
[column col="1/2″]
How it helps you
You get to do less boring admin
Generate reports that give you a complete overview of all your events – past and future
Look more professional and structured in the eyes of your clients
Create opportunities for upselling and generating more business with existing clients
Give your trainings more impact
[/column]
[column col="1/2″ last="true"]
How it helps your clients
They get timely, comprehensive and clear information about the event
They get materials that help them get more value from your event
Clear communication creates a sense of reliability that makes clients feel safe
More value from your events
[/column]
Pricing
One-time setup fee: $199
Together with you we will create your specific presentation workflow that fits your and your clients' needs. We will customize all materials, documents and emails with your company name, information and logo.
Per event: from $99
You pay one fixed cost for every event we manage for you. That's hours of work (and frustration) that you save for every event you deliver to a client. Hours you can instead devote to honing your skills, improving your services and generating new business.
Closed beta
We are currently testing this in a closed beta with a number international speakers and facilitators. If you want to be informed when we go public, sign up here and you'll be the first to know: