[quote align="center"]I have been immersed in the Woohoo Partner Curriculum. It's fantastic!! I am completely stunned by the quantity and quality of material you've prepared.
– Danielle Forth, Woohoo inc Partner in Canada[/quote]
If you want to work to bring more happiness to clients and workplaces, you should become a Woohoo Partner.
As a partner in our program you get unlimited online access to the materials and concepts that we have created and refined over the last 15 years with clients like LEGO, IKEA, IBM, Hermés and Microsoft. You will be able to do keynotes, workshops and other trainings for small and large audiences.
We can safely say that this work is challenging but also one of the most fun and rewarding jobs in the world. It's not for everyone – it takes a lot of creativity and courage to go up against established thinking – but the world needs more of us. Which is why we've created this program.
Who can be a partner
[quote align="right"]We already have partners in 30 countries including Norway, USA, Australia, Argentina, Turkey, UK, Mexico, Chile and The Netherlands. We are looking for more engaged, skilled partners from these countries and all over the world![/quote]
The partnership program is both for external consultants who want to market these concepts to clients and for internal consultants (e.g. HR) who would like to use it internally in their own organization.
As an external consultant you can target workplaces in your region, you can go after a specific industry (if you're a nurse, maybe you're uniquely qualified to help hospitals become happier) or you can make the whole world your playground – like we've done.
As an internal consultant you can use the materials to improve your workplace. You'll get tons of tools and inspiration to work with teams, with leadership or with individuals to make them happier and more effective at work.
[quote align="center"]I am a fervent supporter of the concepts and ideas of the Woohoo team. It is for me a real pleasure to work as a partner with a committed professional and international team to make workplaces and employees more happy.
– Martin Leroy, Grupo Aukera, Woohoo Partner in Argentina[/quote]
Training materials
We have set up an online platform where you get access to a huge amount of materials, including everything we use to do our presentation and workshops, including:
Our complete keynote master slide deck.
Our complete workshop format including all exercises and slides.
Videos that show how we do our speeches, workshops and management trainings.
Our surveys about happiness at work that we've used with hundreds of clients.
The research and studies that we cite in our work.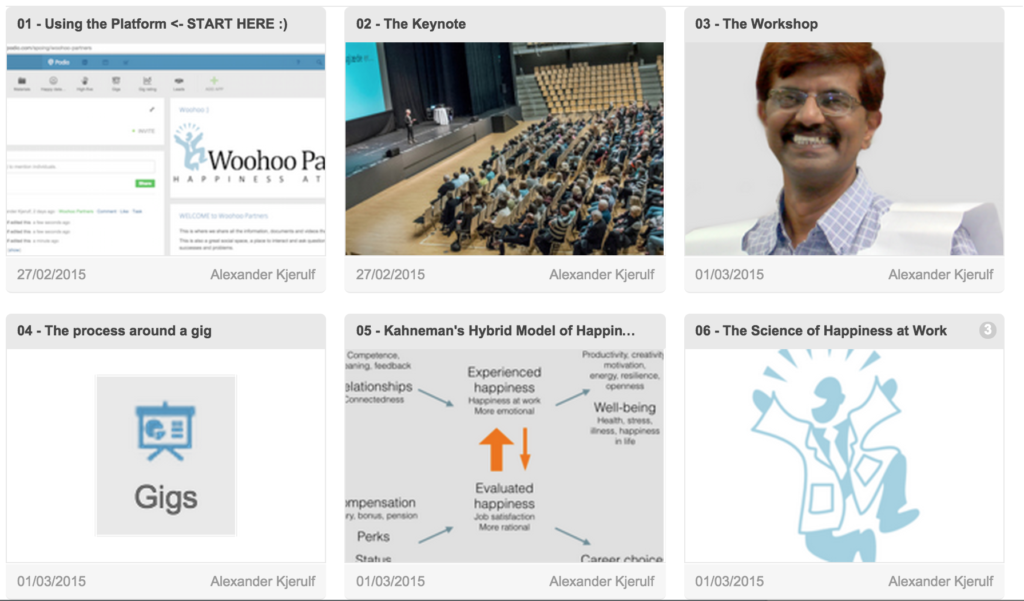 Excerpt from the Partner materials.
More resources
Additionally you get access to a ton of videos, articles and printed materials that you can use or translate, including:
Hundreds of articles from our blog.
Posters that you can sell or use for advertising.
Printed handouts you can use with your services.
Various games and activities.
Videos from our conferences.
Support
Twice a year we have a 2-day Partner Summit, that is free for all active partners, where we meet and exchange ideas, share knowledge and network.
We have are monthly online events where we share the latest updates to the materials and answer any questions you have.
We also share how to build a business out of workplace happiness, including tips for:
Getting clients and bookings.
Creating a good website, newsletter and social media profile.
How to sell the concept of workplace happiness – externally as a consultant or internally inside your workplace.
Network
And finally you become part of a network of other Woohoo inc Partners, who share best practices, challenges and inspiration. We have an active online network where partners share ideas, success stories and questions.
Partner levels
Signing up (and being accepted) makes you a Woohoo inc Partner. This gives you access to all of the materials and allows you to use them in your work. We have designed it so that this in itself is enough for a committed and skilled individual to get going.
If you attend one of our Chief Happiness Officer Academy trainings and pass the exam you become a Certified Woohoo inc Partner. There is no requirement that you attend this training – the online platform already has everything you need to do this work – but it might help you get more deeply into the materials.
[button size="medium" src="https://woohooinc.com/partners/terms/"]Terms and fees[/button] [button size="medium" src="https://woohooinc.com/partners/faq/"]Partner FAQ[/button] [button size="medium" src="https://woohooinc.com/partners/apply/"]Apply to be a Woohoo Partner[/button]