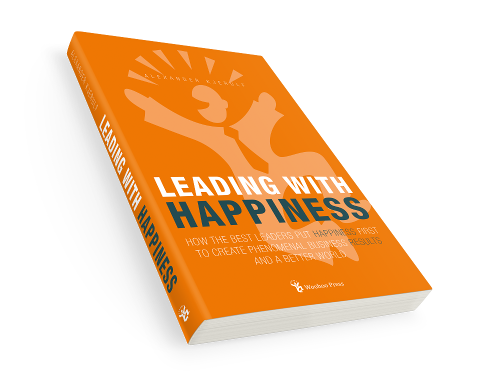 Leading with Happiness: How the Best Leaders Put Happiness First to Create Phenomenal Business Results and a Better World is the latest book by Alexander Kjerulf, author of Happy Hour is 9 to 5.
The book presents a simple but radical idea: The fundamental goal of any leader should be to increase happiness in the world. Leaders who don't do that are doing it wrong.
Drawing on fascinating lessons from psychology, neurobiology and philosophy, the book demonstrates why leaders should put happiness first – for themselves, their employees, their customers, and the wider world – and why happy leaders are more successful.
Learn from some of the best and happiest leaders in business, arts, politics and the military, including:
The symphony orchestra conductor who discovered that happy musicians play better music
The company founder who got much better results when he stopped being a jerk and started being nice
The industrial CEO who had to unlearn everything he'd been taught about leadership to create a happy and successful manufacturing giant
The nuclear submarine commander who stopped giving orders
The IT executive who brought his company out of a major crisis by focusing on his employees' happiness
This book is for executives and managers at every level who want knowledge and tools to make their business leadership a force for good, creating better results and a better world.
Here's where you can buy the book.
Paperback
182 pages, 6×9 inch paperback.
E-book
Other options
If you're looking to buy in bulk for a larger group, get in touch.
Danes can also buy the book in our Danish webshop.
Praise for the book
"What an inspiring book. Every leader should read it and learn how to promote happiness for employees, customers, suppliers, investors, and even the leader him- or herself. That type of leadership has been integral to our success and I know it will boost your results too."
– Garry Ridge, CEO WD-40 Company

"Alex has done it again. He has written a book that helps leaders get happier and better and, most importantly, helps their teams get better. And happier. If you follow the simple steps he lays out and adopt the worldview he suggests, I will lay a substantial wager your company will do well. Very well. Read this book. Then read it again. And put the ideas into practice. You will be well served."
– Srikumar Rao, TED speaker and author of Happiness at Work.

"We all have to develop and improve as individuals and organizations. The digital revolution of the last ten years has meant that many of us are available 24/7, which is not good for us. It's time to combine the demand for ever-increasing efficiency with happiness, so we don't burn out. This book will show you how."
– Søren Lockwood, CEO SEB Pension Denmark

"This book is very inspiring and helps me prove that the work we do makes a lot of sense. Vega IT is all about happiness at work but I also love what Alexander wrote about customer happiness. I already made many notes on ideas I had while reading those sections of the book and I look forward to start practicing some in the future."
– Sasa Popovic, CEO Vega IT Sourcing

"This is a book that the world needs. It will move you. It will excite you. It will inspire you. And it could well change your life"
– Henry Stewart, CEO of Happy

"As a leader, don't I have enough on my plate? Now I have to concern myself with something as ethereal as happiness? Please Alexander Kjerulf, tell me it's not true. Oh, but it is true and it may be the grandest truth of all. And … there is a secret waiting for you, the leader, inside this book. Happiness won't add to your workload, but decrease it. It won't add to your stresses, but lessen them. This book is not ethereal, nor is its subject. THIS is as real as it gets!"
– Rich Sheridan CEO, Menlo Innovations, Author of Joy, Inc.

"This wonderful book gives you a blueprint for improving your business and the world. The evidence and the tools are right here in your hands. The rest is up to you!"
– Mikael Kamber, news anchor and author

"Alex knows what he is talking about when it comes to happiness. Productivity does not produce happiness; happiness produces productivity."
– L. David Marquet,

"Here at Zappos, we believe that the key to happy customers and a growing bottom line is happier employees. This book is a great read for customer-centric companies."
– Jamie Naughton, Chief of Staff Zappos.com inc.

"This is the book I have been waiting for! The practical examples makes it easy to use in daily business. I have purchased examples for all my leaders and we will do a workshop i January and find out how we do it our way, so happiness becomes a more integrated part of the leadership in our company. Leading with happiness is as choice and inspired by the book we have taken the decision, that this is how we want to lead."
– Kræn Brinck Nielsen, CEO X-Yachts