February 12-15, 2019
WD-40 Corporate Headquarters, San Diego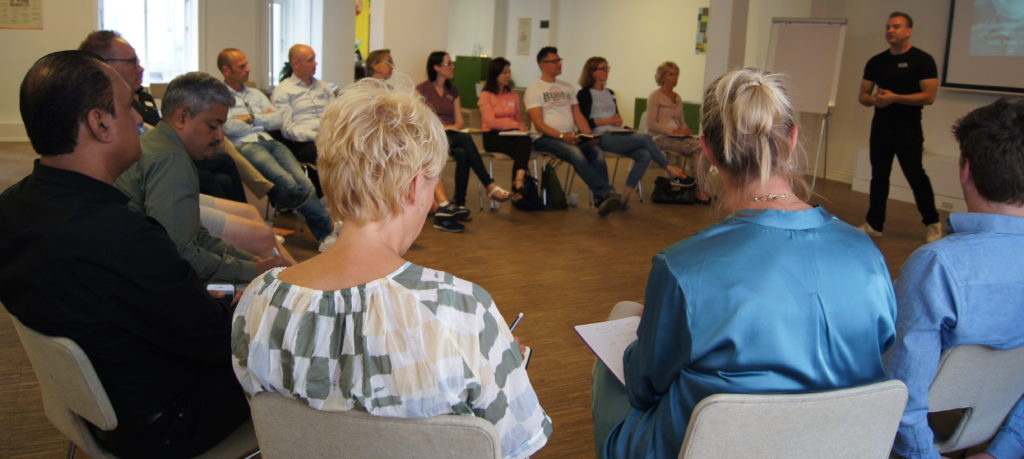 From the Academy in Copenhagen in June 2016
Venue
The training takes place in San Diego at WD-40 Company Headquarters:
WD-40 Company Headquarters
9715 Businesspark Ave,
San Diego, CA 92131
USA

Agenda
Tuesday February 12, 2019: Pre-event meet-and-greet and dinner
5:45 (6:00) PM: We start the night before the actual training for some fun and a dinner. We'll do some teambuilding and to get to know each other. If you possibly can, try and make it for this – it adds a lot of value to the training itself.
We meet at:
House of Hints (find it in google maps)
5575 Magnatron Blvd H
San Diego, CA 92111
USA
It would be great if you could be there 15 minutes before, since we have a reservation to start the fun at 6:00 PM sharp.
After having fun at House of Hints we'll have dinner at Bruski Burgers and Brew, 9844 Hibert St, San Diego, CA 92131, USA. We have a table reservation for 7:45pm
Wednesday February 13, 2019: Theory and concepts
8:30 AM: Come early if you want a light breakfast before we start.
9:00 AM: A thorough introduction to the theory and practice of happiness at work.
Content includes:
Why all our work is (and must be) evidence-based
An introduction to the latest research into happiness at work
Kahneman's hybrid model of happiness – the best model we've found so far.
The most important lessons from positive psychology and other disciplines that apply to workplaces
What makes people happy at work
Why raises, bonuses, perks and promotions have a very limited effect
Noon: Lunch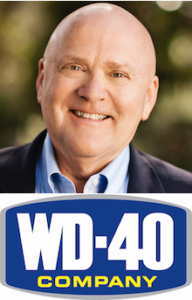 1:00 PM: How Garry Ridge Made WD-40 a Happy Billion-Dollar Business
WD-40's CEO Garry Ridge will gives us a look "under the hood" of one of the world's most recognized brands, WD-40 Company, where 98% of employees say they "love to work" and 99% say that their "opinions and values are a good fit" for the company. This high engagement has resulted in a company that has doubled in revenue in the last decade, and is on a trajectory to double again in the next.
3:00 PM: Tour of WD-40
We get a tour of WD-40's beautiful HQ and see for ourselves what makes them so happy and successful.
4:00 PM: Reflections and wrap-up
5:00 PM: Training ends for the day.
6:00 PM: Sightseeing is cancelled due to heavy rain forecast.
We meet at 6pm for dinner at:
Siam Nara (find it at Google maps)
8993 Mira Mesa Blvd.
San Diego
CA 92126
Thursday February 14, 2019: Teaching happiness
8:30 AM: Come early if you want a light breakfast before we start.
9:00 AM: The advantage of happy workplaces.
We look at what exactly happy workplaces more effective and profitable. Content includes:
Why happy workplaces are more profitable
How happiness at work affects the individual
The role of managers in creating happy workplaces
11:00 AM: How to teach happiness at work.
Content includes:
Our best exercises and tools
How to set the right mood and get participants actively involved
Noon: Lunch
1:00 PM: How to teach happiness at work continued.
Content includes:
How to structure a happiness process for optimal impact
How happiness projects fail – common pitfalls to avoid
How to measure happiness at work
4:00 PM: Walk and talk + wrap-up of the day.
5:00 PM: The End – free night.
Friday February 15, 2019: Selling happiness
8:30 AM: Come early if you want a light breakfast before we start.
9:00 AM: How do you sell this? We'll split into two groups – those who want to be consultants and sell it to clients and those who want to use this internally inside their own organizations.

Content includes:
Common objections to happiness at work and how to counter them
How to get management buy-in
How to get employees involved
How to show companies the business advantages of happy staff
Noon: Lunch.
1:00 PM: Exams. Take the exam to test the knowledge and skills you've acquired and for a chance to become a Certified Woohoo inc Partner.
3:00 PM: Closing ceremony – putting this into action.
5:00 PM: Formal program ends. Afterwards we celebrate the exams with a drink on us at Ballast Point across the street.
6:30 PM: Dinner at:
Little Italy Bar & Grill (find it at Google maps)
10006 Scripps Ranch Blvd
San Diego, CA 92131
USA