June 25 – 28, 2019, Copenhagen, Denmark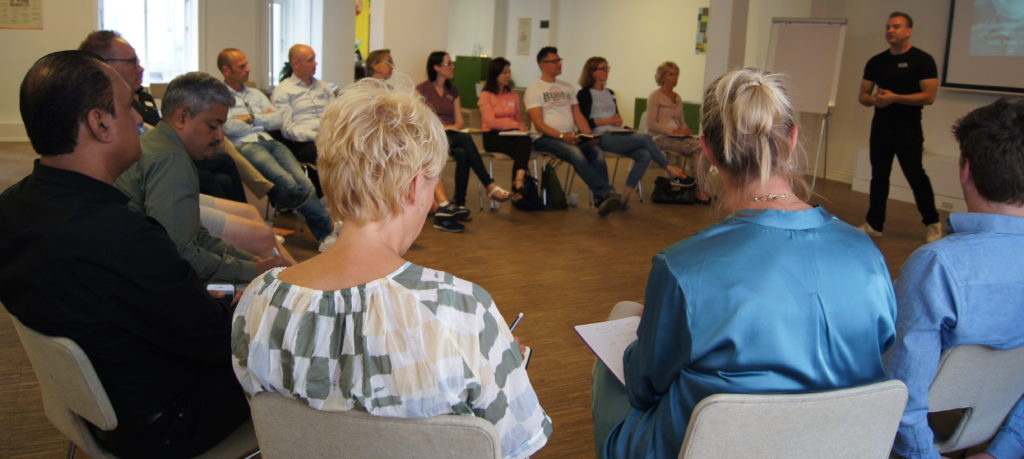 From the Academy in Copenhagen in June 2016
Venue
The training takes place at a very creative meeting space called MBK, right in the center of Copenhagen. The address is Pilestræde 61.
Agenda
Tuesday June 25, 2019: Pre-event meet-and-greet and dinner
6:00 PM: We start the night before the actual training for a meet-and-greet dinner. We do some teambuilding and get to know each other. If you possibly can, do try and make it for this – it adds a lot of value to the training itself.
We meet at Tivoli Gardens main entrance on Vesterbrogade on Tuesday, June 26, 2018 at 6:00 PM.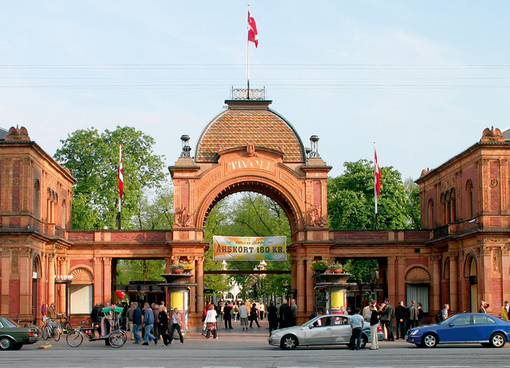 Wednesday June 26, 2019: Theory and concepts
8:30 AM: Come early if you want a light breakfast before we start.
9:00 AM: A thorough introduction to the theory and practice of happiness at work.
Content includes:
Why all our work is (and must be) evidence-based
An introduction to the latest research into happiness at work
Kahneman's hybrid model of happiness – the best model we've found so far.
The most important lessons from positive psychology and other disciplines that apply to workplaces
What makes people happy at work
Why raises, bonuses, perks and promotions have a very limited effect
Noon: Lunch
1:00 PM: Introduction continues.
Content includes:
Why happy workplaces are more profitable
How happiness at work affects the individual
The role of managers in creating happy workplaces
How to measure happiness at work
Examples of happy workplaces and what they do
There will be something sweet around 3 PM 🙂
5:00 PM: Training ends for the day.
6:00 PM: Sightseeing by boat and dinner picnic style on the water – please remember it might get windy, so bring a jacket and/or sweater.
We meet at 18:00/6p.m by GoBoat Boat Rental, Islands Brygge 10, 2300 Copenhagen S
Thursday June 27, 2019: Teaching happiness
8:30 AM: Come early if you want a light breakfast before we start.
9:00 AM: How to teach happiness at work.
Content includes:
Our best exercises and tools
How to set the right mood and get participants actively involved
How to structure a happiness process for optimal impact
Noon: Lunch
1:00 PM: How to teach happiness at work continued.
Content includes:
How happiness projects fail – common pitfalls to avoid
2:00 PM: Transportation from MBK to IIH Nordic (by Metro from Kongens Nytorv or bike).
2:30 PM: Visit to a happy workplace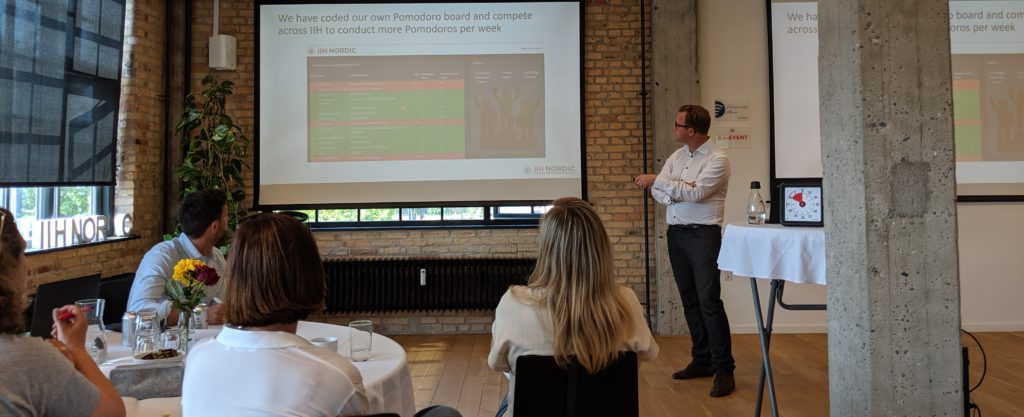 We get a tour of IIH Nordic, an internet intelligence agency in Copenhagen that have a truly great culture. They were recently named best workplace in Denmark by Great Place to Work.
They do many things to create a happy workplace and also moved to a 4-day work week 2 years ago, which has only made them even happier and more profitable. We will get a tour of the office and of their culture by their CEO Henrik Stenmann. The address is Artillerivej 86.
4:15 PM: Walk and talk + wrap-up of the day.
5:00 PM: The End – free night.
Friday June 28, 2019: Selling happiness
8:30 AM: Come early if you want a light breakfast before we start.
9:00 AM: How do you sell this? We'll split into two groups – those who want to be consultants and sell it to clients and those who want to use this internally inside their own organizations.

Content includes:
Common objections to happiness at work and how to counter them
How to get management buy-in
How to get employees involved
How to show companies the business advantages of happy staff
Noon: Lunch.
1:00 PM: Exams. Take the exam to test the knowledge and skills you've acquired and for a chance to become a Certified Woohoo inc Partner.
3:00 PM: Closing ceremony – putting this into action.
5:00 PM: Formal program ends.
7:00 PM: Afterparty+dinner. Informal gathering to celebrate the end of the CHO Academy at Alexander & Patricia's home, Stefansgade 31.