February 13-16 2018, New York City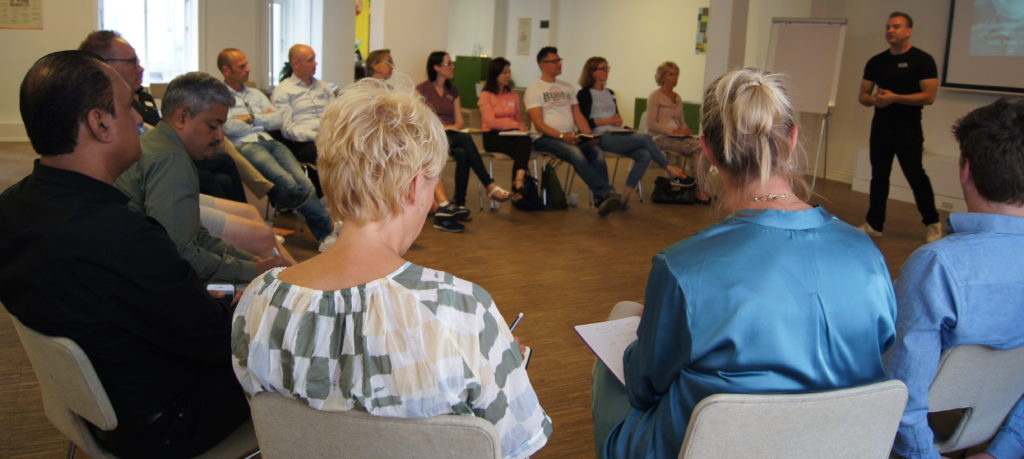 From the Academy in Copenhagen in June 2016
Venue
The training is at Scandinavia House, 58 Park Avenue, New York City (see in Google Maps).
Agenda
Tuesday February 13: Pre-event meet-and-greet and dinner
6:00 pm: We start the night before the actual training for a meet-and-greet, a nice dinner and some team building to get to know each other. If you possibly can, try and make it for this – it adds a lot of value to the training itself.
We meet at Grand Central Terminal by the clock tower (see in Google Maps).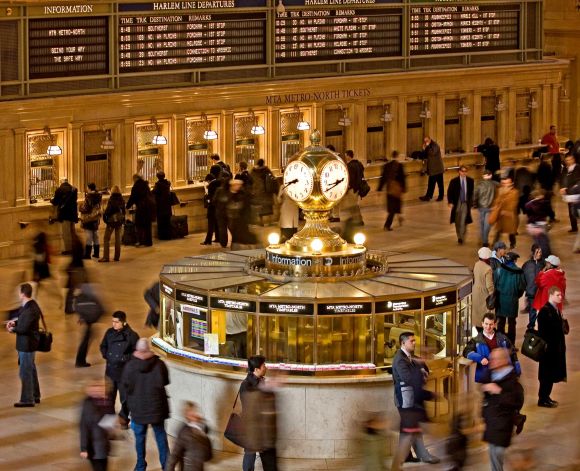 8:30 PM: Dinner at The Pershing Square Café, 90 E 42nd St.
Wednesday February 14: Theory and concepts
8:30 am: Come early if you want a light breakfast before we start.
9:00 am: A thorough introduction to the theory and practice of happiness at work.
Content includes:
Why all our work is (and must be) evidence-based
An introduction to the latest research into happiness at work
Kahneman's hybrid model of happiness – the best model we've found so far.
The most important lessons from positive psychology and other disciplines that apply to workplaces
What makes people happy at work
Why raises, bonuses, perks and promotions have a very limited effect
Noon: Lunch
1:00 pm: Introduction continues. Content includes:
Why happy workplaces are more profitable
How happiness at work affects the individual
The role of managers in creating happy workplaces
How to measure happiness at work
Examples of happy workplaces and what they do
5:00 pm: Training ends for the day.
6:00 pm: Sightseeing. We meet at the 34th st. /Midtown station of the East River Ferry for a cruise down the East River. Please be there on time – we have a boat to catch 🙂
7:30 pm: Dinner at Piacere NYC, 351 Broome St.
Thursday February 15: Teaching happiness
8:30 am: Come early if you want a light breakfast before we start.
9:00 am: Wrap-up of day one and preparation for day two and site visit.
9:45 am: Visit to Next Jump
We get a tour of Next Jump, a happy workplace with a tremendous focus on always developing their people. They are the subject of a recent book called "An Everyone Culture." Topics include:
How they hire for humility
How to celebrate those who help others
Creating a culture that promotes health and good habits
Helping others and having a positive impact as a company
Constant feedback and mentorship
Including employees in vision and strategy
Address: 261 5th Ave, New York, NY 10016 (see in Google Maps).
12:30 pm: Lunch
1:30 pm: How to teach happiness at work.
Content includes:
Our best exercises and tools
How to set the right mood and get participants actively involved
How to structure a happiness process for optimal impact
How happiness projects fail – common pitfalls to avoid
4:30 pm: Wrap-up of the day.
5:00 pm: The End – free night.
Friday February 16: Selling happiness
8:30 AM: Come early if you want a light breakfast before we start.
9:00 AM: How do you sell this? We'll split into two groups – those who want to be consultants and sell it to clients and those who want to use this internally inside their own organizations.

Content includes:
Common objections to happiness at work and how to counter them
How to get management buy-in
How to get employees involved
How to show companies the business advantages of happy staff
Noon: Lunch.
1:00 PM: Exams. Take the exam to test the knowledge and skills you've acquired and for a chance to become a Certified Woohoo Partner.
3:00 PM: Closing remarks – putting this into action.
5:00 PM: Formal program ends.
6:00 PM: Farewell dinner at Havana NY, 58 W 38th St.