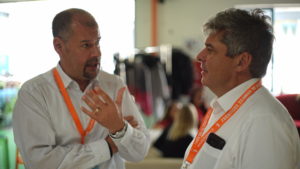 This Leading with Happiness seminar is based on the newest research and knowledge about Happiness at Work. It will be inspiring and with useful tools. There is a constant shift between presentation, videos, reflection, dialog and exercises.
As a leader you will also get both the knowledge and tools you need to make your people happy at work. And it doesn't take much. Happiness at work is not about raises, bonuses, perks and promotions – it comes from simple, effective actions that any leader ought to know and do.
When & where
Wednesday November 21st, 2018 from 9:00 – 16:00 in Copenhagen, Denmark
Agenda
08:30 Come early if you want a light breakfast before we start
09:00 Introduction to happiness at work
10:30 Break
10:45 Leading with Happiness
12:00 Lunch
13:00 The leader's toolbox
14:30 Break with coffee/tea and something sweet
14:45 Plan for happiness
15:15 Praise and recognition tool: The poncho
15:45 Final summation
16:00 End of seminar
See a more detailed description of the program below.
Price:
DKK 5.375 including Danish VAT (25%) per person.
The price includes:
A full day seminar
Breakfast, lunch and coffee/tea
Hand-outs with practical tips
Leading with Happiness book (in English)
All slides, videos and materials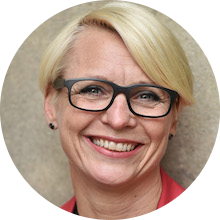 The seminar will be run by Arlette Bentzen, who's an expert on happiness at work and has many years of experience as a presenter and trainer. She is also certified in Positive Psychology since September 2017.
Arlette has a background in management, HR and customer relations in a number of different industries and was also an independent consultant for 6 years. Arlette joined Arbejdsglæde nu / Woohoo inc. in 2010 and does keynotes, speeches and workshops for all types of companies both inside and outside Denmark. She also does keynotes at conferences around the world, including a TEDx talk in the UK. 
Venue
La Oficina
Suomisvej 4
1927 Frederiksberg C
Denmark
Nearest Metro Station is Forum only 5 minutes walk (400 m) from the venue.
Nearest S-train Station is Vesterport only 10 minutes walk (800 m) from the venue.
Copenhagen Central Station is 15 minutes walk (1,2 km) from the venue
Tickets and cancellation policy
Tickets can be purchased with credit card or paypal trough through our eventsoftware Tito.
Please note that the seminar is limited to 12 participants to make sure that everyone's questions can be addressed.

Please note our cancellation policy:
Cancellations up to 1 month before the seminar: 50% refund
If we receive your cancellations after that date, the tickets are non refundable, but the ticket can be transferred to another person.
Meals
If you have any dietary restrictions or allergies we need to be aware of, please let us know as soon as possible and preferably before November 14th, 2018.
---
Detailed program:
Introduction to happiness at work
Opening with a presentation in happiness at work that focuses on the following topics:
What is happiness at work and common myths and misconceptions
Why is happiness important for employees, including less stress, better health, higher productivity and higher life satisfaction.
Why happy workplaces are more effective and profitable than unhappy ones.
What makes us happy and unhappy at work.
Leading with happiness
We show how leaders can use the science of happiness in their leadership. Topics:
How can managers stay happy at work themselves?
What can you do to make your employees happier
How can leaders get their employees to take responsibility for their own happiness at work.
Great cases and examples of happy and successful leaders/companies
The leader's toolbox
Happiness at work is not about salary, bonuses, perks or promotions – it comes from simple factors and actions. We share a number of simple but highly effective tools you can use to create more happiness at work.
Plan for happiness
Participants get a chance to make their own specific plan of action, to help them actually do something about it after the workshop.
Poncho
And finally, we end with an exercise in praise and recognition that teaches participants an easy and fun way to appreciate the best in their co-workers. A fantastic exercise you can use with your team at home.
Please contact us if you have any questions.