We want to show you just how energetic, fun and valuable this conference is, so here are five of our favorite speeches from previous years.
David Marquet (2013): Happiness at work on a nuclear submarine
When David Marquet took command of the nuclear submarine the USS Santa Fe, he knew he needed to change a lot of things. It was the worst performing submarine, was never ready for its missions on time and was basically the laughing stock of the US navy.
David came in with a plan to improve the results on the submarine and thereby make its crew happier. By accident, he found that he had to do it the other way around: Make the submarine a happy workplace and results would follow.
The new plan worked, and the USS Santa Fe became the best performing submarine.
In this speech from our 2013 conference, David Marquet explains how he did it and how you can create a happier workplace too.
Srikumar Rao (2009): The two traps that keep us from being happy
One of the highlights of our 2009 conference on happiness at work in Copenhagen was Dr. Srikumar S. Rao's wonderfully inspiring and funny presentation.
His presentation focused specifically on two traps you must avoid, that keep us from becoming happy.
Dr. Rao is the man behind the pioneering course Creativity and Personal Mastery, the only business school course that has its own alumni association and it has been extensively covered in the media including the New York Times, the Wall Street Journal, the London Times, the Independent, Time, the Financial Times, Fortune, the Guardian, Business Week and dozens of other publications.
Helle Hein (2017): How KPIs and metrics demotivate your best employees
More and more workplaces want to measure everything. KPIs, scorecards and performance goals are supposed to motivate employees and help increase their productivity. But is that really a good way to motivate employees and makes them happy?
Helle Hein has a ph.d. in management and has done research on motivation for the past 20 years. Her work shows that many people are not motivated by metrics and bonuses but by something more meaningful – a professional calling or a cause that matters deeply to them. Leading these people based only on performance measures and financial rewards leads to frustration and a huge loss of talent and motivation.
In this talk she will show you how your organization can get the most out of its most talented employees, what really motivates people (no, it's not bonuses) and how to make sure that people feel that their work really matters to them.
Alexander Kjerulf (2017): The Science of Happiness at Work
Companies have tried many things to make their staff happier and more motivated – everything from massages and smoothies to bonus schemes and promotions. All of these cost a lot of money but they just don't work.
In his talk at our conference in 2017, our own Alexander Kjerulf revealed why many traditional HR initiatives are a waste of time and money. He also shared the 5 most important findings from the happiness research and showed how to use them in organizations.
Tim Dorsett (2015): How we make Innocent Drinks a happy workplaces
Tim Dorsett's titel is Office MANgel and his job is to make sure that people at Innocent Drinks do great work and go home happy.
In this inspiring presentation he shares the top 10 things he's done to make sure that happens
Bonus video: The world's happiest DJ (2015)
This isn't a speech as such but it is one of our favorite moments from the conferences.
This is a German DJ who became famous on youtube a few years ago for being incredibly happy while playing. He used that as a springboard to quit the day job that he hated and become a full-time DJ.
In this video from our 2015 conference he plays a very short set and then shares his story.
Meet a man who had the courage to go his own way and became world famous for being happy at work.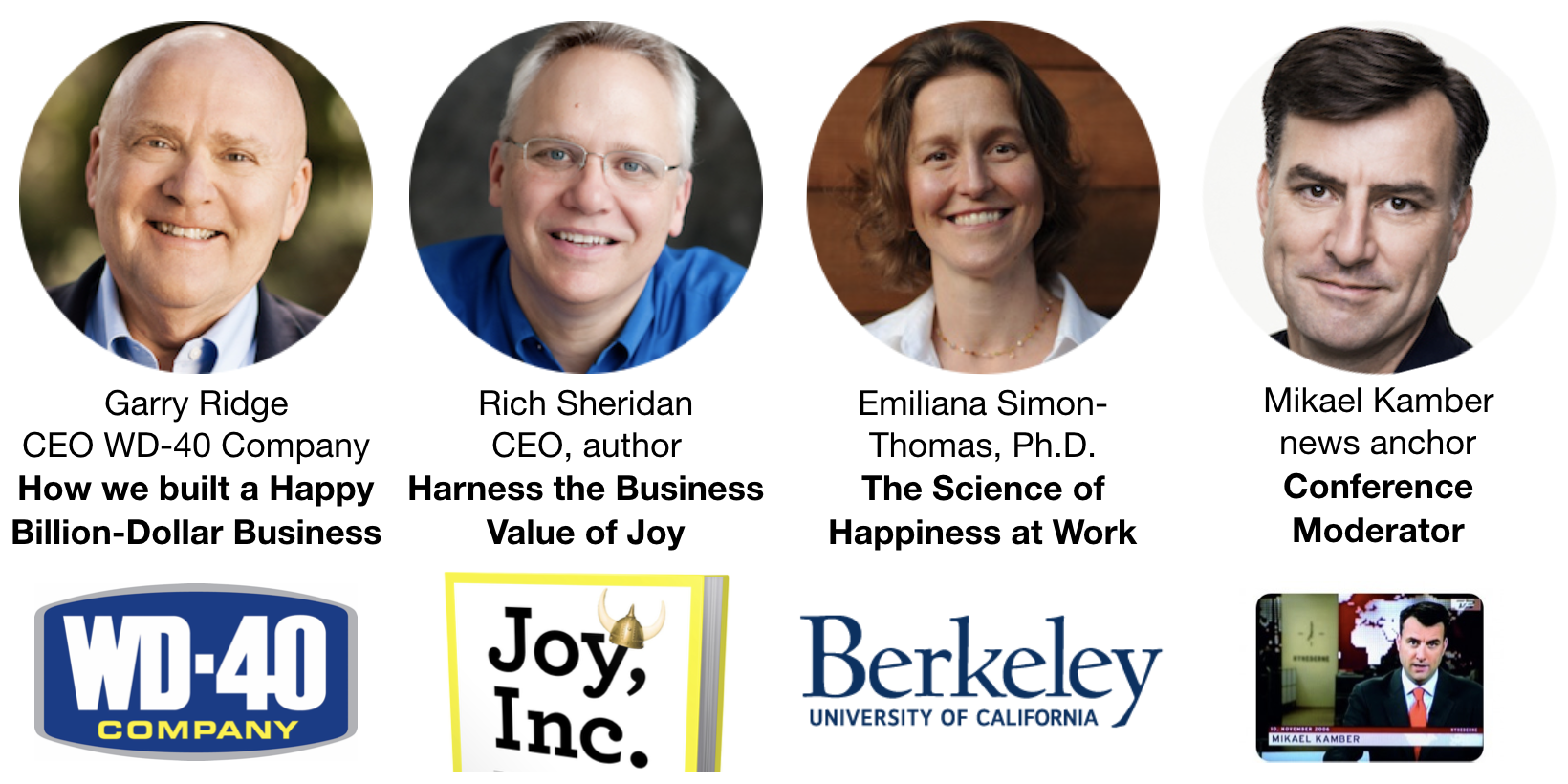 Join this year's conference Full program and speakers